The Agriculture Energy Savings Action Plan (AESAP) helps agriculture operations by offering a variety of rebates, incentives, and financing options to help your operation reduce energy usage and costs.
Upgrading ventilation, irrigation, and other critical systems with more energy-efficient options is one way to reduce your overhead, improve production, and preserve natural resources.
How We Can Help
No-Cost Technical Support
Assistance through application process and program participation
Contractor Suggestions
Help finding a qualified contractor to assist with your project.
No-Cost Energy Evaluation
On-site inspection and personalized energy-saving action plans
Financing Assistance
Resources to help finance energy efficiency projects
Why Energy Efficiency?
Agricultural businesses throughout the Pacific Gas and Electric service area have tremendous opportunities for cost reduction and energy savings through energy efficiency upgrades. Upgrading to more efficient equipment benefits businesses by reducing operating and maintenance costs and improving performance.
The rebates offered by AESAP help improve ROI and reduce payback time. The public benefits from reduced energy grid stress, improved power reliability and a reduction in the need for future power plants – creating a cleaner community. It's a win-win for everyone.
Our Objectives:
Identify energy efficiency opportunities
Help reduce operating costs
Improve service and environmental quality
Reduce waste and emissions
Facilitate installation of efficiency upgrades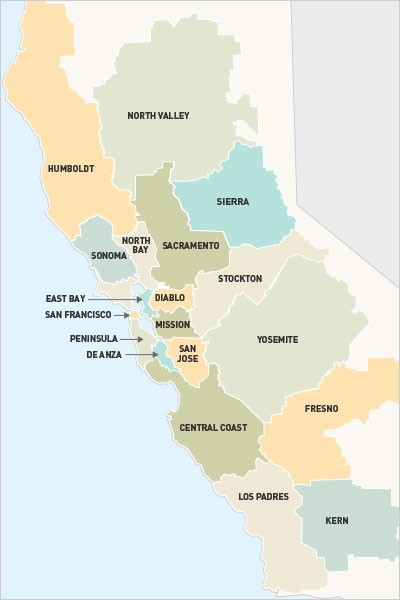 To be eligible, you must:
Be an existing PG&E Agriculture gas or electric customer on a qualifying rate schedule

Customer must pay Public Purpose Program (PPP) Surcharge on PG&E bill. If you are unsure if this applies to you, please contact AESAP for confirmation.

Be within PG&E's service area within the following divisions:
Humboldt
North Valley
Sierra
Sacramento
Sonoma
Yosemite
De Anza
East Bay
Diablo
Peninsula
Stockton
Central Coast
Los Padres
Kern
Fresno
North Bay
San Francisco
San Jose
Mission
Ways To Save
There are two primary ways agriculture operations can save through the AESAP program: